Draw Wire Sensor
Draw-wire displacement sensors measure linear movements using a highly flexible steel cable. The cable drum is attached to a sensor element which provides a proportional output signal.
Measurements are performed with high accuracy and high dynamic response. The use of high quality components guarantees a long life cycle and high operational reliability.
We offer a wide selection of draw-wire displacement sensors with numerous types of output signal. This means that each customer has the opportunity of selecting the best sensor for his application.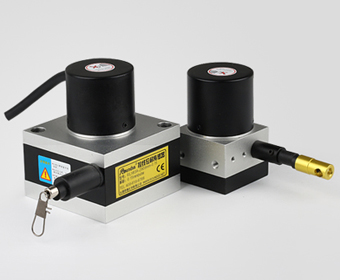 Incremental Type Draw Wire Encoder
An incremental encoder is coupled to a spring loaded-reel through the use of a mechanical coupling device, internal to the housing of the reel. As the shaft rotates, pulses are evaluated and counted by a juding circuit and a counter to determine rotating direction and pulses number.The starting point of counting can be set arbitarily, infinite accumulation and measurement of multiple turns are achievable. When the number of pulses is fixed, by means of A and B signals of 90°phase difference, the original number of pulses id doubled or quadrupled to increase resolution.
[Manual Download]

Picture
Model
Body Dimension
Output Type
Measuring Range(mm)
Resolution
linearity
Output Signal
Operating Voltage
Protection Class
PDF Download
RLC95D
95*95
Digital output
0-4000
1000-5000 ppr
0.05%FS
C,E,F,L,A
5V/8-26V
IP54
RLC78D
78*78
Digital Output
0-3000
1000-5000 ppr
0.05%FS
C,E,F,L,A
5V/8-26V
IP54
RLC63D
63*63
Digital Output
0-2500
1000-5000 ppr
0.05%FS
C,E,F,L,A
5V/8-26V
IP54
RLC50D
50*50
Digital Output
0-1500
1000-5000 ppr
0.05%FS
C,E,F,L,A
5V/8-26V
IP54
RLC40D
40*40
Digital output
0-600
1000-5000 ppr
0.05%FS
C,E,F,L,A
5V/8-26V
IP54