Manual Pulse Generator and Handwheel Unit
Hand pulse generator is an optical rotary encoder developed for manual pulse input for CNC machine tools, which is also known as electronic hand wheel, MPG handwheel, MPG, hand holding box and so on. Widely used in CNC machine tools for setting the mechanical work origin and manually stepping trimming. The band switch on it is used to select the axis and magnification. Pulses from the pulse generator is to facilitate the acquisition system.
According to the supply voltage, resolution and signal output, it results in a CNC control system applicable to all types of hand-held unit.
With impact resistant shell made of high strength materials, MPG has the function of anti-interference, abrasion resistance and oil-proof. It is suitable for CNC machine tools and automation systems, compatible with a variety of brands of CNC system. For example, SIEMENS, MITSUBISHI, FANUC, FAGOR, NUM, HEIDENHAIN, LNC, SYNTEC, KND, GSK, SKY, etc.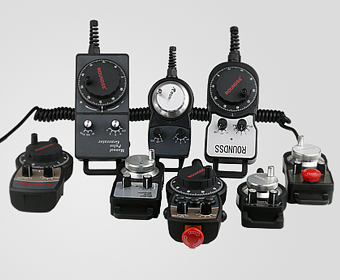 A manual pulse generator (MPG) is a device normally associated with computer numerically controlled machinery or other devices involved in positioning. It usually consists of a rotating knob that generates electrical pulses that are sent to an equipment controller. The controller will then move the piece of equipment a predetermined distance for each pulse.
The CNC handheld controller MPG Pendant with x1, x10, x100 selectable. It is equipped with our popular machined MPG unit, 4 axis and scale selector, emergency stop and reset button.
[Manual Download]

Picture
Model
Body Dimension
Axis NO
Resolution Switch
Emergency Stop Switch
Enable Switch
Operating Voltage
Output Signal
Resolution
Housing Material
pdf Download
RSG6
167*90*70
X、Y、Z、4、5、6
×1,×10,×100
optional
optional
DC5V
E,L
25/100ppr
Plastic
RSA
164*80*60
X、Y、Z、4
×1,×10,×100
optional
optional
DC5V
E,L
25/100ppr
Plastic
RSB
190*85*66
X、Y、Z、4、5、6
×1,×10,×100
optional
optional
DC5V
E,L
25/100ppr
Plastic
RSC
127*74*58
X、Y、Z、4
×1,×10,×100
N/A
N/A
DC5V
E,L
25/100ppr
Plastic
RSD
154*70*54
X、Y、Z、4
×1,×10,×100
N/A
N/A
DC5V
E,L
25/100ppr
Plastic
RSE
197*85*78
X、Y、Z、4
×1,×10,×100
N/A
N/A
DC5V
E,L
25/100ppr
Plastic
RSF
154*70*65
X、Y、Z、4、5、6
×1,×10,×100
optional
N/A
DC5V
E,L
25/100ppr
Plastic
RSG
167*90*70
X、Y、Z、4、5、6
×1,×10,×100
optional
optional
DC5V
E,L
25/100ppr
Plastic
RSH
167*90*70
4/5/6
×1,×10,×100
optional
optional
DC5V
E,L
25/100ppr
Plastic
Output Signal Definition:
C:open collector;E:voltage;F:pushpull;L:line driver; A:wide voltage line driver