Absolute Encoder
Absolute encoders are position feedback devices that report absolute positional information. An absolute encoder generates a unique code for each position. Absolute encoders do not lose position when power is removed. Since each position is unique, true position verification is available as soon as power is up. It is not necessary to initialize the system by returning to home base.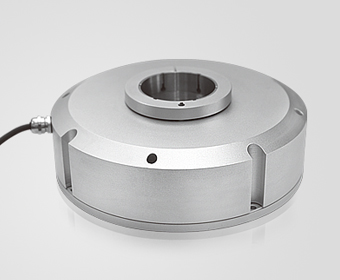 Single-turn Absolute Hollow Shaft Encoder
A hollow shaft encoder is one of the most common shaft designs because of its versatility. Instead of having a solid bar that has to match the motor, a hollow shaft encoder fits over the motor shaft and is then clamped in place. It's held in position by a flexible tether. This means that a hollow shaft encoder does not have to be perfectly sized to fit the motor and it does not require any external components which increase its size. A hollow shaft encoder also has a more forgiving installation; the clamp and the tether can be used to adjust the position and to absorb shocks and vibration that could cause misalignment.Hollow shaft encoders are available in two configurations: through-shaft and blind-shaft.
[Manual Download]

Picture
Model
Outer Dia.
(mm)
Shaft Dia.
(mm)
Resolution

Accuracy
Operating Voltage
Interface
Max Mechanical Speed
(r/min)
Protection Class
Operating Temperature
pdf
Download
RDE51T
51
19
single turn 19bit;multi turn 16 bit
+/-0.2
5V
BiSS – C
4500
IP50
-10℃ to +110℃
RDE58T20
58
20
10-18 bit
±15″
DC5V±5%/DC9-30V
RS485/RS422/Parallel
2000
IP54
-20(-40)-+65℃
RDE206T
206
60-100
21-24 bit
±2″
DC5V±5%/DC9-30V
RS485/RS422/RS232
800
IP52
-20(-40)-+65℃
RDE165T60
165
60
18-22 bit
±3″
DC5V±5%/DC9-30V
RS485/RS422/RS232
600
IP54
-20(-40)-+65℃
RDE108T36
108
36
12-19 bit
±10″
DC5V±5%/DC9-30V
RS485/RS422
600
IP54
-20(-40)-+65℃
RDE105T25
105
25
12-21 bit
±7.5″
DC5V±5%/DC9-30V
RS485/RS422
2000
IP54
-20(-40)-+65℃
RDE94T30
94
30
12-20 bit
±7.5″
DC5V±5%/DC9-30V
RS485/RS422/RS232
1000
IP54
-20(-40)-+65℃
RDE94T25
94
25
12-20 bit
±7.5″
DC5V±5%/DC9-30V
RS485/RS422/RS232
2000
IP54
-20(-40)-+65℃
RDE58T14
58
14
10-18 bit
±15″
DC5V±5%/DC9-30V
RS485/RS422/Parallel
2000
IP54
-20(-40)-+65℃