CNC Spindle Encoder
The spindle encoder is mainly applied to CNC machines.The sychronis pulses from encoder is collected by CNC system and then the feeding data of tools are sent to servo motor to perform the motion.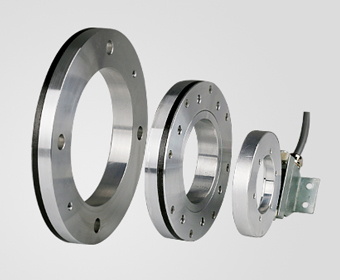 The magnetic ring encoder, based on advanced magneto-electric induction technology, is widely used in automation control and measurement.It is mounted to CNC spindle directly without synchronous wheel transmission.
Features:Non-contact sensing technology between readhead and ring;multiple rings demensions for wide applications;could be used in harsh environment;IP 68 for readhead.
[Manual Download]

Picture
Model
Outer Dia.
(mm)
Max Hole Dia.
(mm)
Resolution

Output Signal
Operating Voltage
Max Mechanical Speed(r/min)
pdf Download
RTD163
163mm
135mm
128-16384 ppr
L
5V
35000 r/min
RTD122
122mm
90mm
128-16384 ppr
L
5V
35000 r/min
RTD115
115mm
85mm
128-16384 ppr
L
5V
35000 r/min
RTD82
82mm
60mm
128-16384 ppr
L
5V
35000 r/min
Output Signal Definition:
C:open collector;E:voltage;F:pushpull;L:line driver; A:wide voltage line driver