CNC Spindle Encoder
The spindle encoder is mainly applied to CNC machines.The sychronis pulses from encoder is collected by CNC system and then the feeding data of tools are sent to servo motor to perform the motion.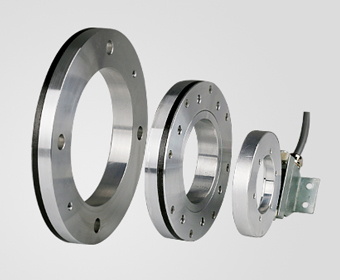 Optical bearless spindle encoder
Application:CNC lathe
Features:
1.Long life and saving cost.The Grating component of encoder is directly connected to lathe spindle without the aid of flexible couplings,flange and synchronous pulley,which saves the cost of mounting accessory.The bearingless non-contact design reduces the mechanical loss and ensures higher life.
2.Reliable performance.American original parts and chips, and integrated photoelectric switch module are adopted by STS series encoder to ensure stable and reliable quality.The disc with special material could resist high temperature and three times of vibration than regular encoder.
[Manual Download]

Picture
Model
Outer Dia.
(mm)
Max Hole Dia.
(mm)
Resolution

Output Signal
Operating Voltage
Max Mechanical Speed(r/min)
pdf Download
IEC Flange Encoder71B5/90B14a
10mA
12-24V
STS256T
256
130
2048ppr
L
DC5±0.25V
5000
STS185T
185
76/95/100
1024ppr
L
DC5±0.25V
10000
Output Signal Definition:
C:open collector;E:voltage;F:pushpull;L:line driver; A:wide voltage line driver